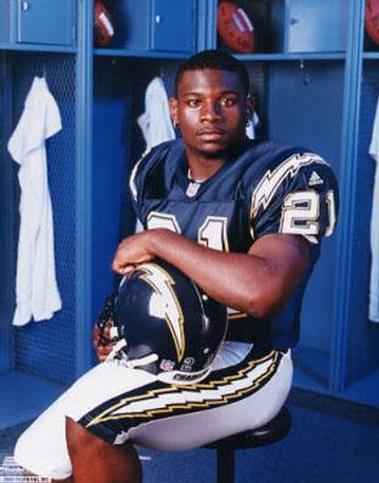 Number: 21
Position: Running back
College: Texas Christian
Height: 5-10
Weight: 221
DOB: 06/23/79
Experience: 5th NFL Season
Acquired: Draft 1 - 2001
Hometown: Waco, Texas
LaDainian Tomlinson has steadily raised the bar by which NFL running backs aremeasured. Arguably the best player in the game today, Tomlinson took his game to a new level in 2003, becoming the first player in NFL history to rush for 1,000 yards
and catch 100 passes in the same season. When he wasn't selected to the Pro Bowl, it was considered a major snub. Tomlinson's 2,370 total yards were the second-most ever in a season in league history. By the time the 2004 season ends, he will hold virtually every team rushing record, and it's a near certainty that one day he will hold a few NFL records as well.
Tomlinson was kept busy during the offseason. He continued working toward his degree in psychology from TCU, taking general studies courses at home. Tomlinson anticipates that his coursework will be complete and he will earn his degree by spring 2005.
Tomlinson and his wife, LaTorsha, also have been hard at work supervising the construction of their dream home in Poway. The 10,000-square-foot home is due for completion in October and the Tomlinsons are anxious to move in.
Tomlinson continues to do great things in the community. In February he hosted the second-annual LaDainian Tomlinson Celebrity Golf Tournament to support three very worthy causes: the LT School is Cool Scholarship Fund, the I Am Foundation and the victims of the deadly wildfires that ravaged San Diego County last October. He also hosted two football camps, one in March at San Diego's Hoover High School that was held the same weekend as his golf tournament, and another in Waco, Texas at Baylor University. It was the third year he returned to Waco for the camp, which he runs with the help of Walter Brown, his former running backs coach at University High School. Nearly 300 kids attended each of the camps.
Once the season begins, Tomlinson will host the "21 Club" at each Chargers' home game. He invites upwards of 21 kids from San Diego youth groups and nonprofit organizations to attend a game. Then after the game, LT takes the kids to a local restaurant where he treats them to dinner and a night of entertainment. Each child goes home from the "21 Club" with a goodie bag filled with school supplies, books and games.
Tomlinson enjoys basketball, golf and video games. He competes in pickup games in local gyms and often makes the two-hour commute to Los Angeles to watch the Lakers at Staples Center. Like many of his teammates, Tomlinson has an interest in classic cars and owns a restored 1964 cherry-red Chevy Impala, complete with a hydraulic lift kit.
Football has allowed LT to do a lot for his family. After signing his first contract with the team in 2001, one of the first things he did was to purchase new homes in Dallas for his mother, Loreane, and sister, Londria. It was a dream come true for Loreane, who raised three children on her own. In addition to the homes, he also purchased a pair of vacant buildings in Dallas, one for his mother's real estate company, Eagle Lending, and the other for his sister's day-care center, Miracles and Blessings.
Football has given Tomlinson a platform to help his family and others close to it. One such person is Tory Degrate, a 17-year old senior who attends Tomlinson's alma mater,
University High School. For the past few summers, Tomlinson has invited Degrate to spend the summer months with he LaTorsha in the couple's home. Tomlinson is a mentor to Degrate, who has been raised in a single-parent home. One common bond the two share is a love for playing basketball. Tomlinson is extremely proud that his work with Degrate helped him to earn a spot on the school's varsity basketball team as a sophomore. He has since been named MVP of the district twice, all-conference twice, and district Newcomer of the Year as a sophomore. Tomlinson hopes to help Degrate take his game to the next level of playing basketball and continuing his education at a four-year college.
2003: Finished season with 2,370 total yards from scrimmage, second-most in NFL history behind only Marshall Faulk who had 2,429 yards for St. Louis in 1999 …accounted for 45.9 percent of team's offensive yards, second-highest in NFL behind Baltimore's Jamal Lewis (46.1 percent)...finished season with 1,645 rushing yards, second-most in team history and 38 yards shy of his own team record of 1,683 set in 2002…scored 13 rushing touchdowns…caught team-record 100 passes, good for career-high 725 yards and four touchdowns…first-alternate for AFC Pro Bowl squad...second-team All-Pro choice by Associated Press...chosen to USA Today's "All Joe Team"...selected Offensive Player of Year and All-Pro by SportsIllustrated.com columnist Peter King...Chargers' Most Valuable Player, Offensive Player of Year and co-Most Inspirational Player... recipient of JB Award for community service from James Brown, host of FOX's NFL pregame show...named Pro Football Weekly's Offensive Player of the Week after rushing for team-record 243 yards and two touchdowns on 31 carries in 21-14 win over Oakland Dec. 28…touchdowns were both two-yard runs, including game-winner with 11:42 remaining in fourth quarter…243 rushing yards was second-best single-game effort in NFL in 2003…added 17 yards receiving on eight catches against Raiders for 260 total yards from scrimmage …set new team record with seventh-career game with more than 200 combined net yards…set new team record with fifth game this season with more than 200 combined net yards…was fourth 200-yard rushing game of career, tied for second-most in NFL history with Jim Brown, Earl Campbell and Barry Sanders, two shy of O.J. Simpson's NFL record of six…raised season total to 100 receptions to become only player in NFL history to rush for 1,000 yards and catch 100 passes…two touchdowns against Raiders raised season total to 17, second-most in team history…marked fourth-consecutive multi-touchdown game that included eight touchdowns in final four games, tying Wes Chandler (1982) and Chuck Muncie (1981) for most touchdowns by Charger in four-game stretch…rushed for two touchdowns at Pittsburgh Dec. 21... were 10th and 11th touchdowns of season ...scored first touchdown on five-yard run in second quarter and became first player in team history and fifth player in NFL history to rush for 10 or more touchdowns in first three NFL seasons…second touchdown was two-yard run in fourth quarter…caught six passes to raise season total to 92, breaking team's single-season record of 90, set by Tony Martin in 1995…became only second player in NFL history (Roger Craig, San Francisco, 1985) to rush for 1,000 yards and catch at least 90 passes …matched season-high with 11 catches for 144 yards and two touchdowns against Green Bay Dec. 14…touchdowns covered seven and 68 yards…68-yard scoring catch and run was second-longest of career…became first running back in team history to record back-to-back 100-yard receiving games…became first player on team to record consecutive 100-yard receiving games since Jeff Graham in 1999 …added 51 rushing yards for 195 total yards from scrimmage and raised season total to 2,011 yards becoming first player in team history and eighth player in NFL history with consecutive 2,000-yard seasons… with 11 catches against Packers, set new single-season team record for receptions by running back, increasing total to 86… previous mark was 79, which he shared with Ronnie Harmon…caught career-high two touchdown passes for both Chargers scores in 14-7 win at Detroit Dec. 7… caught 16- and career-long 73-yard scoring passes…set career high with 148 yards receiving on nine catches against Lions… rushed for 88 yards on 25 carries for 236 combined net yards against Detroit… rushed for 106 yards and touchdown on 19 carries against Kansas City Nov. 30…55-yard run in third quarter pushed him over 100-yard ledger…marked 16th career 100-yard game to set new team record for regular season…touchdown was six-yard run in second quarter…scored touchdown on six-yard run in fourth quarter against Cincinnati Nov. 23…named FedEx Ground NFL Player of Week for effort against Minnesota Nov. 9…rushed for 162 yards and two touchdowns against Vikings and added 45 yards receiving for 207 total yards from scrimmage…first touchdown was 73-yard career-long scoring run in first quarter… added one-yard touchdown in third quarter …averaged career-high 10.1 yards per carry against Minnesota rushing for 162 yards on just 16 carries…also had 55-yard run on opening possession of third quarter …scored touchdown on three-yard run at Chicago Nov. 2…combined for 142 yards and one touchdown against Miami Oct. 27 …had 11 catches and 80 yards receiving against Dolphins, while carrying 24 times for 62 yards and one-yard touchdown run in fourth quarter…named AFC Offensive Player of the Week, Pro Football Weekly's Offensive Player of the Week and SportsIllustrated.com columnist Peter King's Offensive Player of the Week after racking up 200 rushing yards at Cleveland Oct. 19… scored on 70 yard run against Browns, second-longest touchdown run of career…also led team with three catches for 21 yards, giving him total of 221 yards from scrimmage for game…was third-career 200-yard rushing game and became fastest player in NFL history to record three 200-yard games (38 games)…accounted for 232 yards of total offense at Oakland Sept. 28… rushed for 187 yards and touchdown against Raiders, his second-consecutive game with more than 100 yards rushing and touchdown…touchdown was 55-yarder in second quarter…added 24 yards receiving on team-high seven catches, and threw 21-yard touchdown pass to Drew Brees…was first-ever pass thrown during his NFL career…also against Raiders, Tomlinson climbed into fourth place on team's all-time rushing list for career yards and carries, moving past Chuck Muncie …had first 100-yard game of season, rushing for 105 yards on 23 carries against Baltimore Sept. 21…scored first touchdown of season on two-yard run and led team with eight catches for 51 yards against Ravens …led team with 93 yards against Denver Sept. 14…tied for team high with five catches against Broncos…led team with five catches at Kansas City Sept. 7.

2002: Named to 2002 AFC Pro Bowl squad…chosen as team's Most Valuable Player and recipient of Rodney Culver Memorial Award as Offensive Player of Year…earned second team All-Pro honors from Associated Press and Football Digest…finished season with team-record 1,683 rushing yards and 2,172 total yards from scrimmage… scored 15 touchdowns, 14 rushing and one receiving…tied team record for running backs with 79 catches, good for 489 yards …tied Don Woods' 1974 team record with seventh 100-yard game of season at Kansas City Dec. 22…rushed 24 times for 131 yards against Chiefs…caught game-high nine passes for additional 26 yards… racked up 110 yards and one touchdown on 28 carries at Buffalo Dec. 15…broke team's single-season rushing mark with 57-yard effort against Oakland Dec. 8 to raise season figure to 1,375 yards…eclipsed Natrone Means' total of 1,350 yards set in 1994…scored 13th rushing touchdown of season against Raiders…named Pro Football Weekly's Offensive Player of Week after rushing for team record and career-high 220 yards against Denver Dec. 1 …tied career high with three touchdowns against Broncos…became first player in team history to rush for 10 touchdowns in back-to-back seasons and only 11th player in NFL history…had career-long 76-yard run in first quarter of Denver game that tied for fourth-longest run from scrimmage in team history…caught season-high 11 passes for 51 yards against Broncos for 271 total yards from scrimmage…tied for seventh-most combined yards in single game in team history...37 carries was second-highest tally of career and season and tied for second-most in game in team history… surpassed 1,000-yard mark for season with 88-yard rushing performance against San Francisco Nov. 17…led team with eight catches for 57 yards for combined 145 yards against 49ers…rushed for 120 yards and one touchdown on 24 carries at St. Louis Nov. 10…became first running back to rush for more than 100 yards against Rams in St. Louis since New England's Robert Edwards rushed for 196 yards on Dec. 13, 1998…was span of 32 games… scored eighth rushing touchdown of season against New York Nov. 3…scored game-winning touchdown on 19-yard run in overtime at Oakland Oct. 20…carried career-high 39 times for 153 yards against Raiders …scored first-career receiving touchdown on four-yard pass from Drew Brees against Oakland…added 28 receiving yards on five catches to finish Raiders' game with 181 combined yards…39 carries tied Marion Butts' team record set at Kansas City, Dec. 17, 1989…racked up combined 156 yards against Kansas City Oct. 13, including 78 yards rushing and 78 receiving…had one-yard touchdown run versus Chiefs…led team with seven catches for 49 yards at Denver Oct. 6…named AFC Co-Offensive Player of Week on Oct. 2 after tying Gary Anderson's then-team record with 217 yards rushing against New England Sept. 29…added 20 receiving yards for 237 total yards from scrimmage…carried 27 times against New England while Anderson needed 34 carries for his share of record…had career-long 37 and 58-yard touchdown runs against Patriots…scored two touchdowns from four and two yards against Arizona Sept. 22…carried 26 times for 91 yards and caught five passes for 25 more yards for total of 116 against Cardinals…recorded fifth-career 100-yard game with 114 yards and one touchdown on 21 carries in season opener at Cincinnati Sept. 8…had 45 receiving yards on three catches for combined 159 yards against Bengals.

2001: Runner-up in Associated Press Offensive Rookie of Year voting behind Chicago's Anthony Thomas…chosen team's Offensive Player of Year and selected as third-alternate to Pro Bowl… named to Pro Football Weekly's All-Rookie Team… set new team record with 1,603 total yards from scrimmage…bettered Lance Alworth's total of 1,590 yards set in 1965, though Alworth posted his total in 14 games... became first player in team history to eclipse 1,600 total yards...ranked ninth in league and fourth in AFC in that category ...finished season with 1,236 rushing yards, 367 receiving yards and 10 rushing touchdowns…his 1,236 rushing yards was second-highest single-season total in team history and highest ever for rookie…ranked ninth in NFL and fifth in AFC...became team's first 1,000-yard rusher since Natrone Means posted 1,350 yards in 1994 ...was only 10th 1,000-yard season in team history...10 rushing touchdowns were most ever by rookie and most since Means' 12 in 1994...tied for 11th in NFL and seventh in AFC in touchdowns...recorded 339 carries, second-most in team history...Tomlinson and Chicago's Thomas finished season tied for second among NFL rookies with four 100-yard rushing games...behind Indianapolis' Dominic Rhodes who led all rookies with five 100-yard games...had fourth 100-yard game of season with 145 yards at Kansas City Dec. 23 to pass Don Woods for team rookie rushing record...Woods racked up 1,162 yards in 1974 and is only other rookie in team history to eclipse 1,000 yards…recorded team rookie record 10th touchdown of season at Seattle Nov. 25…had career-high 13 receptions against Arizona Nov. 25…tied for third-most receptions in game in team history and was most-ever by running back…scored ninth touchdown of season at Oakland Nov. 18…recorded eighth touchdown of season against Kansas City Nov. 4…scored one touchdown at New England Oct. 14… rushed for 102 yards and one touchdown on 19 carries at Cleveland, Oct. 7...had season-long 54-yard run against Browns… named AFC Rookie of Month for September…rushed for 107 yards and three touchdowns versus Cincinnati Sept. 30…racked up 113 yards and two touchdowns on 36 carries Week 1 vs. Washington…became 20th player in NFL history since 1970 to rush for more than 100 yards in first-career game…36 rushes is most ever by Chargers rookie and tied for third-most in single game in team annals...selected by Chargers in first-round of 2001 NFL Draft with fifth overall selection.
College: Heisman Trophy finalist as senior...only second player in college football history to rush for more than 2,000 yards in season and 5,000 yards for career...racked up 5,263 rushing yards during career at TCU, ranking sixth in NCAA Division I-A history...became just ninth player in I-A history to rush for more than 5,000 career yards...in final two seasons at TCU ran for combined 4,008 yards and led nation in rushing both years...was third player to lead the nation in rushing in back-to-back years...2,158 yards as senior were fourth-best in NCAA history and came after 1,850-yard junior season, which included Division I-A single-game record 406-yard performance against Texas-El Paso ...scored school-record 54 touchdowns ...was eighth-most in NCAA history...set school records for 100-yard rushing games (21), all purpose yards (6,337) and longest run from scrimmage (89t)...won Doak Walker Award as nation's top running back in 2000...named Football News' National Offensive Player of Year...first team All-America selection by Associated Press as senior and second team as junior...two-time Western Athletic Conference Offensive Player of Year and three-time all-conference...chosen WAC Player of Week 11 times...also earned first team All-America honors from Football News, Sporting News, Walter Camp, American Football Coaches Association and Football Writers Association...played at TCU from 1997-2000... majoring in psychology.

Personal: Born June 23, 1979 in Rosebud, Texas...district 25-4A Most Valuable Player and Super Centex Offensive Player of Year as senior at Waco University High in Waco, Texas...second-team all-state...married, LaTorsha...couple resides in Scripps Ranch district of San Diego.
(thanks to Chargers.com for the great bio and picture of L.T.)